Sun, surf, and sand. Not the typical things you'd imagine when thinking about Chicago in the middle of winter. Yet, this is exactly what is coming to music fans at The Chicago Theatre on December 18, 2022, at 7:30 pm. This year, The Beach Boys are teaming up with The Holiday Vibrations Orchestra to bring you their 'Tis the Season holiday tour spectacle, taking place across multiple cities along the east coast and Midwest, Chicago included.
Who are The Beach Boys?
Hailing from Hawthorne, California, in 1961, The Beach Boys are an iconic American music group that gained worldwide acclaim and commercial success over the past six decades. Signing with Capitol Records in July 1962, they released their first album during the same year. The album was called Surfin' Safari and remains a classic to this day.
To date, they have sold over 100 million records worldwide and 80 of their songs have reached global music charts. Of these, 36 were featured in the US Top 40 (which is considered the highest number by a US rock band) as well as four that topped the Billboard Hot 100.
With their massive global success, they were inducted into the Rock & Roll Hall of Fame in 1988. But that's not all. They received The Recording Academy's Lifetime Achievement Grammy Award® as well.
With their easygoing style and fun lyrics and music tempo, they've influenced many artists, spanning different music genres over the decades. The album Pet Sounds, for example, was ranked number two on its list of the 500 Greatest Albums of All Time. Meanwhile, The Beach Boys band was ranked number 12 on its list of 100 Greatest Artists of All Time.
Their harmonies have been described as "brilliant" while their lyrics and musical arrangements have conveyed simple truths. Today, they represent Californian culture, exemplified by love, youthful exuberance, and surf culture.
The musical group was originally comprised of three teenage Wilson Brothers (Brian, Carl, and Dennis), in addition to their cousin Mike Love and school friend Al Jardine.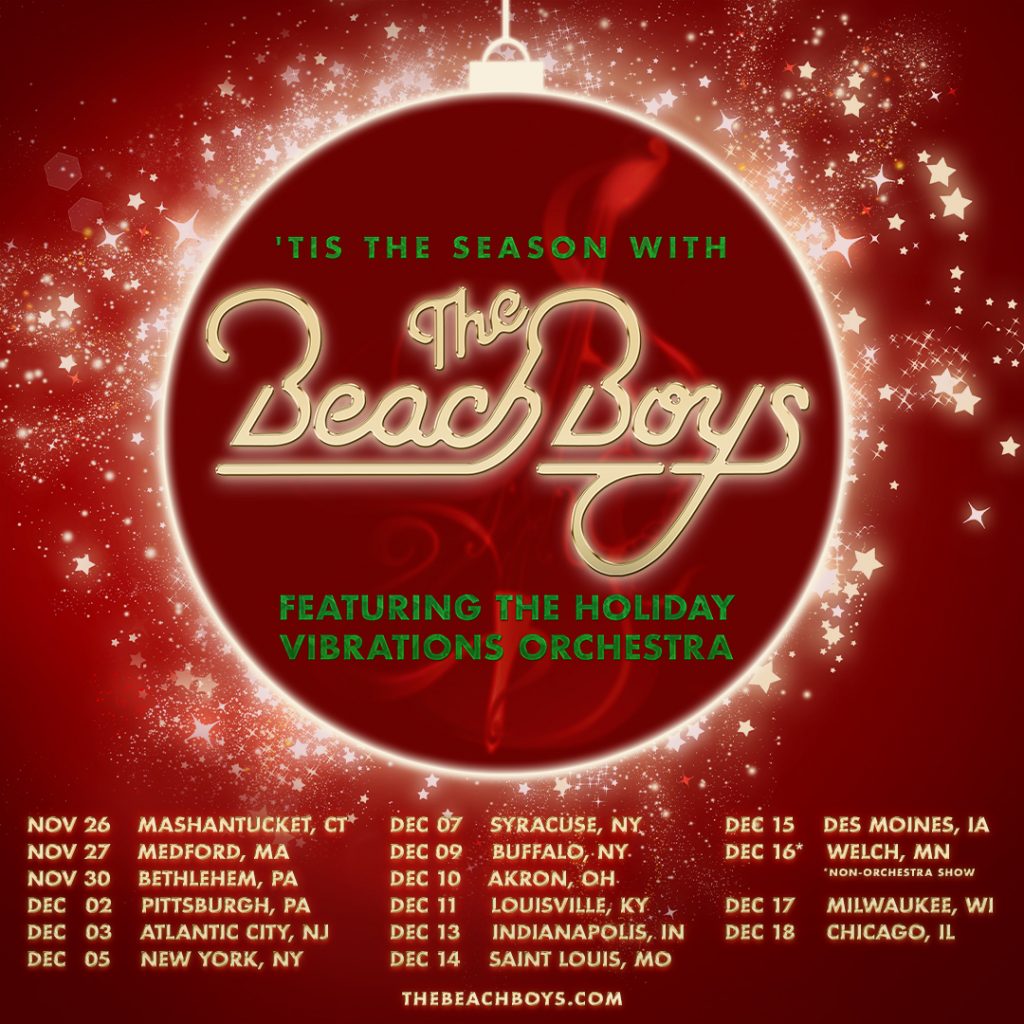 What you can expect from the 'Tis the Season holiday tour
During their 2022 winter tour, The Beach Boys will team up with The Holiday Vibrations Orchestra to bring you their 'Tis the Season performance. In a not-to-be-missed, one-night performance, you'll be able to go back decades in time and enjoy timeless classics as well as a mix of holiday favorites. These will include much-loved songs from The Beach Boys' 1964 Christmas album. Get ready for a Rockin Christmas to get you into the Christmas spirit.
And what's more, is that the performance will also feature songs from Mike Love's holiday album Reason for the Season. This album was produced by Sam Hollander from Panic! At the Disco and Train as well as Steve Greenberg of Hanson and AJR. Other artists to be featured include Hanson and Love's children. But fans and music lovers alike will also get to taste and hear new holiday songs that range from bright guitar and horn-filled pop and rock to softer, traditional carols and ballads.
The 16-date tour starts on November 26, 2022, and will take place in several cities across the country.
A sweet surprise for every guest
Guests of the 'Tis the Season winter holiday tour will also be delighted by a lovely surprise that The Beach Boys has prepared for its fans. As a special offer, all those attending the musical performance will be able to receive a digital download of Mike Love's album Reason for the Season, which is included with every ticket. What better way to liven up to the tunes of this iconic Californian band after their performance than with your very own, free holiday ballads album?
An unforgettable experience to delight all
Whether you've grown up with The Beach Boys as a background soundtrack to your life through the years or you've been recently introduced to them, the 'Tis the Season holiday tour is certain to delight both young and old alike. With timeless classics, new ballads, and Christmas songs to get you in the groove, there's no better way to transport yourself to a warm, sunny, Californian beach this winter in Chicago than attending The Beach Boys' performance.
Getting there and back is now a breeze
Fans and guests attending the performance should also keep some logistical issues in mind as they head over to this magical winter performance. Parking is likely to be limited and traffic is bound to be a reality. So, if you're planning to head over to The Chicago Theatre but are unsure of where to park, how early you should get there, or if you'll even get there in time – there is a solution.
At Bus Connection, we bring you to your desired destination on time, every time. Whether it's a once-off musical performance or any other event, you can rest assured of our bus and coach services. We have vehicles to accommodate practically any group size, and this is especially important if you're traveling to the performance with several people. You'll all meet at the same spot and be dropped off at the right place.
This means you'll be just on time with no stress, worries, or hassles about finding a parking spot when you're competing with hundreds of other drivers for the same thing. So, go ahead, and book your service with us and we'll ensure your night is unforgettable from the moment you step outside your front door until you return home, singing along to some of the most classic tunes of the century.